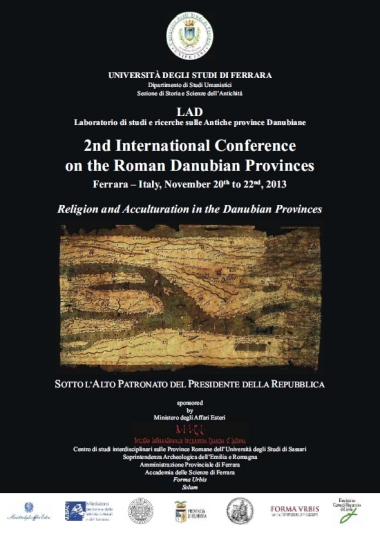 UNIVERSITŔ DEGLI STUDI DI FERRARA
Dipartimento di Studi Umanistici - Sezione di Storia e Scienze dell'Antichitŕ
LAD, Laboratorio di studi e ricerche sulle Antiche province Danubiane
2nd International Conference
on the Roman Danubian Provinces
Ferrara – Italy, November 20th to 22nd, 2013
Religion and Acculturation in the Danubian Provinces
SOTTO L'ALTO PATRONATO DEL PRESIDENTE DELLA REPUBBLICA
sponsored by Ministero degli Affari Esteri
Centro di studi interdisciplinari sulle Province Romane dell'Universitŕ degli Studi di Sassari
Soprintendenza per i Beni Archeologici dell'Emilia-Romagna
Amministrazione Provinciale di Ferrara
Accademia delle Scienze di Ferrara
Cassa di Risparmio di Cento
Forma Urbis
Solum
Program
Wednesday 20th November
CASTELLO ESTENSE, Sala degli Stemmi
Opening Session
8.30 Participants Registration.
9.00 Authorities Welcome - Organizational announcements.
9.30 Opening Lecture: WERNER ECK (Köln), Akkulturation durch Recht: Die lex municipalis Troesmensium.
10.20 Session 1: "Cults and Worship in the Danubian Provinces"
STEFANO MAGNANI (Udine), Il Danubio e i suoi affluenti: realtŕ geografiche ed entitŕ divine;
RADU ARDEVAN (Cluj-Napoca), Il fenomeno dell'interpretatio Romana nelle province romane danubiane;
MIROSLAVA MIRKOVIĆ (Beograd), La religione e l'identitŕ di gruppo in area danubiana e medio-balcanica in epoca romana;
LAURA CHIOFFI (Napoli), Dei Patrii sulla riva del Danubio;
CRISTINA GIRARDI (Graz), Le divinitŕ plurali. Attestazioni dalle province danubiane;
DANIELA RIGATO (Bologna), Una devozione senza confini: Asclepio nelle province danubiane;
LIVIO ZERBINI (Ferrara), I culti italici nelle province danubiane.
12.40-14.00 Lunch break
CECILIA RICCI (Isernia) - DAN DANA (Paris), I culti dei militari traci nelle province danubiane (ad eccezione della Mesia Inferiore);
RAFFAELE D'AMATO (Ferrara), L'iconografia degli Dei e degli Eroi sulle armi delle legioni: culti e devozioni dei milites danubiani tra il I ed il IV secolo dell'era volgare;
NICOLŇ GIUSEPPE BRANCATO (Roma), Ruolo economico-sociale e religiositŕ femminile nelle province danubiane: le risultanze epigrafiche latine;
ALEXANDER FALILEYEV (Aberystwyth), Where Linguistics Fails: towards Interpretations of some Theonyms in the Roman Danubian Provinces;
ETTORE JANULARDO (Roma), Percezioni e visioni culturali.
15.40 General discussion
16.10 Excursion to Voghiera, Castello di Belriguardo – Gambulaga, Castello Verginese – Tresigallo.
20.00 A Welcome Reception will take place in Tresigallo, Centro "Sogni"
Thursday 21st November
CASTELLO ESTENSE, Sala degli Stemmi
8.30 Session 2: "Noricum, Pannonia and Dalmatia"
PAOLO CASARI (Udine), Il culto di Mitra nella Statio Bilachiniensis in Norico;
MANFRED HAINZMANN (Graz), I.O.M. DEPULSOR und sein umstrittenes Götterprofil;
TERESIA PANZER (Wien), Die römischen Inschriften von Wien – ein Überblick;
ROBERTO GUERRA (Santo Stino di Livenza, Venezia), La presenza del sacro nei castra delle Cohortes Alpinorum in Pannonia;
DÉNES GABLER (Budapest), Le questioni cronologiche del tempio di Iside a Savaria;
EDGARDO BADARACCO, Il culto del Sol Invictus Elagabalus ad Intercisa attraverso le testimonianze epigrafiche;
MIRJANA SANADER (Zagreb), Proseucha in Mursa im Lichte neuer Ausgrabungen;
ÁGNES GYURICZÁNÉ BOCZKÓ (Budapest), Das Kind im Gebiet der Provinz Pannonia;
11.10-11.20 Coffee break
PÉTER KOVÁCS (Wien), Administrative changes in Pannonia under Diocletian and Constantine;
ALFREDO BUONOPANE (Verona), God save the Emperor: iscrizioni poste pro salute imperatoris nelle province danubiane;
MATTIA VITELLI CASELLA (Wien), Il culto imperiale nella provincia romana di Dalmazia attraverso le attestazioni epigrafiche;
EVA KATARINA GLAZER (Zagreb), Religious Aspects of the Roman Influence on the Indigenous Population in the Croatian Danube Region;
NASER FERRI (Prishtina), Le credenze ed i culti durante l'epoca romana nella regione dell'odierna Peja/Peć in Kosovo;
DOMAGOJ TONČINIĆ (Zagreb), Der Donaulimes in Kroatien - von Augustus bis Claudius - von Dalmatien zur Donau;
CARLA CORTI (Ferrara), Dal Po al Danubio e dal Danubio al Po. Circolazione di uomini e merci in etŕ romana;
SERENA QUERZOLI (Ferrara), Ipotesi sulla carriera del giurista Ulpio Marcello.
13.40 General discussion
14.00-15.00 Lunch break
15.00 Session 3: "Dacia, Moesia and Thracia"
GYÖRGY NÉMETH (Budapest), Neueste Ergebnisse der Magieforschung in Pannonien und Dacien;
ALBERTO ANDREOLI (Ferrara), Giovanni Battista Panetti, Michele Fabrizio Ferrarini and the Sacred Inscriptions of the Pannonian Dacian Region.
CSABA SZABÓ (Pécs), The Cult of Mithras in Apulum: Communities and Individuals;
IOAN PISO (Cluj-Napoca), Un nuovo governatore della Dacia sotto Gordiano.
LUCRETIU BIRLIBA (Iaşi), Une nouvelle inscription votive de Mésie Inférieure;
ALEXANDER RUBEL (Iaşi), Persönliche Frömmigkeit und 'Staatsreligion' in Dacia und Moesia Inferior. Über das Römische an der römischen Religion;
17.00-17.20 Coffee break
SNEŽANA GOLUBOVIĆ (Beograd), Viminacium Necropolis: Observing Acculturation Process;
MILICA TAPAVIČKI-ILIĆ - NEMANJA MRDJIC (Beograd), A Roman Burial Rite in Viminacium: The Latest Discovery.
ZDRAVKO DIMITROV (Sofia), Ulpia Ratiaria. Possible Temple Buildings According to the Architectural Details on the Terrain and Lapidarium;
MONIKA OWSIANNA (Poznań), Roman Religion in Novae (Moesia Inferior, sec. I-III A.D.);
TADEUSZ SARNOWSKI (Warsaw), Neue epigraphische Texte aus Novae (Untermoesien). Vorläufige Bemerkungen;
19.00 General discussion
20.00 Dinner
21.30 SALA ESTENSE: Projection of the documentary film "Alburnus Maior. Un tesoro da salvare". The documentary will be followed by a debate
Friday 22nd November
BIBLIOTECA COMUNALE ARIOSTEA, Sala Agnelli
9.00 Session 4: "Dacia, Moesia and Thracia"
CLAUDIO ZACCARIA (Trieste), Cultura letteraria e antiquaria in due singolari dediche sacre del Municipium Montanensium (Moesia inferior);
ALESSANDRO CAVAGNA (Milano), Il Priapo Nicopolitano;
IULIA DUMITRACHE (Iaşi), Associations professionnelles et associations cultuelles dans le milieu économique des provinces du Bas-Danube;
MIHAELA IACOB (Tulcea) - ANTONIO IBBA (Sassari) - DOREL PARASCHIV (Tulcea) - ALESSANDRO TEATINI (Sassari), La cittŕ romana di (L)ibida, in Scythia Minor. Le ricerche recenti e l'accordo di collaborazione tra l'Istituto di Ricerche Eco-Museali di Tulcea e l'Universitŕ di Sassari;
MIHAIL ZAHARIADE - JOHN KARAVAS (Bucharest), A Fort of the Danubian Roman Frontier: Halmyris;
10.40-10.50 Coffee break
VIKTORIA CHYSTYAKOVA (Praha), Roman Rural Settlement as an Element of Romanization and Economical Development in Moesia Inferior;
ANCA CEZARINA FULGER (Roma), Il ponte sul Danubio, esempio d'infrastruttura romana nella provincia;
DILYANA BOTEVA (Sofia), Constitutio Antoniniana as a Factor in the Development of the Religious Life in the Thracian Provinces of the Roman Empire;
MARIA FEDERICA PETRACCIA (Genova), La dedica di uno stationarius all'Heros Outaspios;
JUAN RAMÓN CARBÓ GARCÍA (Murcia), Expressions of Power and Religiosity in Trajan's Trophies: Similarities and Differences between the Danube and Euphrates.
12.30 General discussion
13.00-14.00 Lunch break
MUSEO ARCHEOLOGICO NAZIONALE, Salone delle Carte geografiche
14.30 Session 5: "Late Antiquity"
VIOLA GHELLER (Trento), La conversione gotica: una questione identitaria?;
LIETTA DE SALVO (Messina), A proposito dell'organizzazione ecclesiastica nelle province danubiane;
LUCIETTA DI PAOLA (Messina), Giustiniano e la Chiesa della Moesia Secunda. Riflessioni a margine della Nov. 65, 1 (538);
ANDREA FREDIANI (Roma), L'incidenza della battaglia di Mursa sulla caduta dell'impero romano;
ANDREW POULTER (Nottingham), The Collapse of the Late Roman Economy on the Danube and the Settlement of the Goths.
16.10-16.30 Coffee break
FRITZ MITTHOF (Wien), Die epigraphische Kultur der Spätantike im Donau-Balkan-Raum;
GUIDO CLEMENTE (Firenze) – ANNAPAOLA MOSCA (Trento), Tra Alpi e Danubio: l'unitŕ difficile di un territorio conteso (IV-V secolo d.C.);
MAURIZIO BUORA (Udine), Sacro e profano nelle lucerne bronzee della Romania;
GERDA SOMMER VON BÜLOW (Frankfurt am Main), Zeugnisse älterer Kulte aus dem spätantiken Limeskastell Iatrus (Moesia secunda).
17.50 General discussion
18.20 Conference Conclusions
20.00 A Social Dinner will take place at the "IISS Vergani Navarra", Palazzo Pendaglia.
The Conference is dedicated to the memory of Géza Alföldy
LABORATORIO DI STUDI E RICERCHE SULLE ANTICHE PROVINCE DANUBIANE
Prof. Livio Zerbini - Chairman of the conference, Director of LAD
Dr. Alberto Andreoli - Program Committee, Coordinator, Organizing Committee
Other expected participants:
OTTORINO BACILIERI (Ferrara)
GIORGIO BEJOR (Milano)
FEDE BERTI (Ferrara)
MARIA BOLLINI (Ferrara)
MAURO CALZOLARI (Ferrara)
FRANÇOIS CHAUSSON (Paris)
MARIO CESARANO (Ferrara)
MIREILLE CORBIER (Paris)
CATERINA CORNELIO (Ferrara)
ENRICA DOMENICALI (Ferrara)
ANGELA DONATI (Bologna)
GIOVANNI GORINI (Padova)
YOLANDE MARION (Bordeaux)
ATTILIO MASTINO (Sassari)
TOMMASO MANTOVANI (Ferrara)
JACOPO ORTALLI (Ferrara)
GABRIELLA POMA (Bologna)
DANIELA PUPILLO (Ferrara)
RAMONA RAUS (Cluj-Napoca)
PAOLA RUGGERI (Sassari)
ROBERT SABLAYROLLES (Toulouse)
SIMONA SANCHIRICO (Roma)
FRANCIS TASSAUX (Bordeaux)
CINZIA VISMARA (Cassino)
JOHN WILKES (London)
Scientific Committee:
Alberto Andreoli (University of Ferrara), Radu Ardevan (University of Cluj-Napoca), Maria Bollini (University of Ferrara), Dilyana Boteva (University of Sofia), Giovanni Brizzi (University of Bologna), Angela Donati (University of Bologna), Werner Eck (University of Köln), Dénes Gabler (University of Budapest), Attilio Mastino (University of Sassari), Miroslava Mirković (University of Beograd), Leszek Mrozewicz (University of Poznań), Jacopo Ortalli (University of Ferrara), Ioan Piso (University of Cluj-Napoca), Marjeta Šašel Kos (University of Ljubljana), Ekkehard Weber (University of Wien), Claudio Zaccaria (University of Trieste), Livio Zerbini (University of Ferrara), Raimondo Zucca (University of Sassari).
Contact Us
Program Committee
c/o Laboratorio di studi e ricerche sulle Antiche province Danubiane
Dipartimento di Studi Umanistici
Via Paradiso 12, 44121 Ferrara-Italy
Phone: (0039)0532-455232 (0039)0532-455236 Fax (0039)0532-455226
E-mail: lad@unife.it
Other informations
We remind you that a maximum of 20 minutes will be allotted for the presentation of the accepted papers. Attendance at the conference is free. Meals and tours will be covered by the organization of the conference. The attendees will have to pay for their own travel and accomodation costs.
We ask you to make your own hotel bookings. Two hotels at special rates (inclusive of breakfast) are the Hotel Europa (3*), located at Corso Giovecca 49, 44121 Ferrara (Phone: 0039 0532-205456, Fax: 0039 0532 212120, www.hoteleuropaferrara.com ) and Hotel Touring (3*), located at Viale Cavour 11, 44121 Ferrara (www.hoteltouringfe.it , Phone: 0039 0532 206200, Fax: 0039 0532 212000). Both hotels are on walking distance to the Conference venues.
A shuttle service is available from Bologna airport to Ferrara, and from Venice airport to Venezia Mestre railway station.
It is possible to reach Ferrara by train from Bologna and Venezia Mestre railway stations.